how's your long-weekend? i guess everyone is excited posting weekend getaways. summer has just began, and the sun is toasting my days up. tremendously 36 degrees and 40 up is yet to come as what PAGASA earlier predicted.. well, i hope not..here's my post-it guys.. just dying to see Batanes.
hubby will laugh about the idea when he read this post.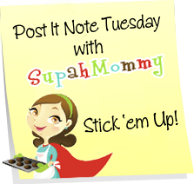 Head over now to Supah Mommy for more Post It Tuesday.