I was in 3rd year high school when EDSA People Power happened. I was already aware that time of what was happening around the country. My sister who was in college the time went to EDSA all the way from Batangas and joined the rally. I could still recall that day how proud she was to have been a part of the People Power.
It was February 25, 1986 when President Marcos stepped down from his throne after two decades of dictatorship. Today, I kept telling my children about EDSA People Power by which I have witnessed in my generation. I couldn't imagine how people were united that time despite the fact that internet and social media did not even yet exist. Today, the recent protests of other countries like Egypt, Libya and Greece remind me of our own People Power that sets the world a history for a bloodless revolution. Unlike their rallies and protests, ours was a peaceful revolution with only prayers, rosaries and flowers used as arms to end the dictatorship. Watching the video of 1986 People Power made me feel proud to be a Filipino!
I am linking this to Nostalgia. Please visit other entries for more nostalgic moment. The host of this weekly meme is Beautiful Rose of
Nostalgic Marveling.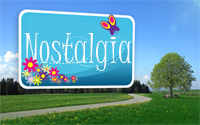 Photo source: internet