-o-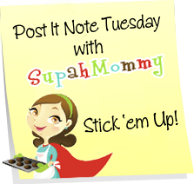 -o-

Express yourself by Post-It-Note Tuesday!
Join us now with and have fun.
Head over now to
SupahMommy
for more Post It Tuesday.
edited: 11 aug
*it should be air conditioner and not air conditioners, $$$ instead of $.. :) i find it easier to edit here than make another post-it.. :) happy PINT!