The picture below was taken many years ago. Those were the days when my kids enjoy simple pleasure with just having those bubbles at Manila Bay. Honestly, I like the simplicity of life back then. We would just go somewhere and find a place where they can play bubbles freely. Now they are so much engaged with e-gadgets.
Look at them. I love this picture so much and my little girl who was only about two years old and still no hair. She was already in her grade school when her hair grew out.
I am linking this to Nostalgia. Please visit other entries for more nostalgic moment. The host of this weekly meme is Beautiful Rose of
Nostalgic Marveling.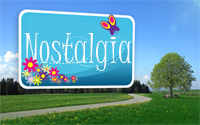 Happy Birthday to the beautiful host of Nostalgia, Rose! All the best sis!